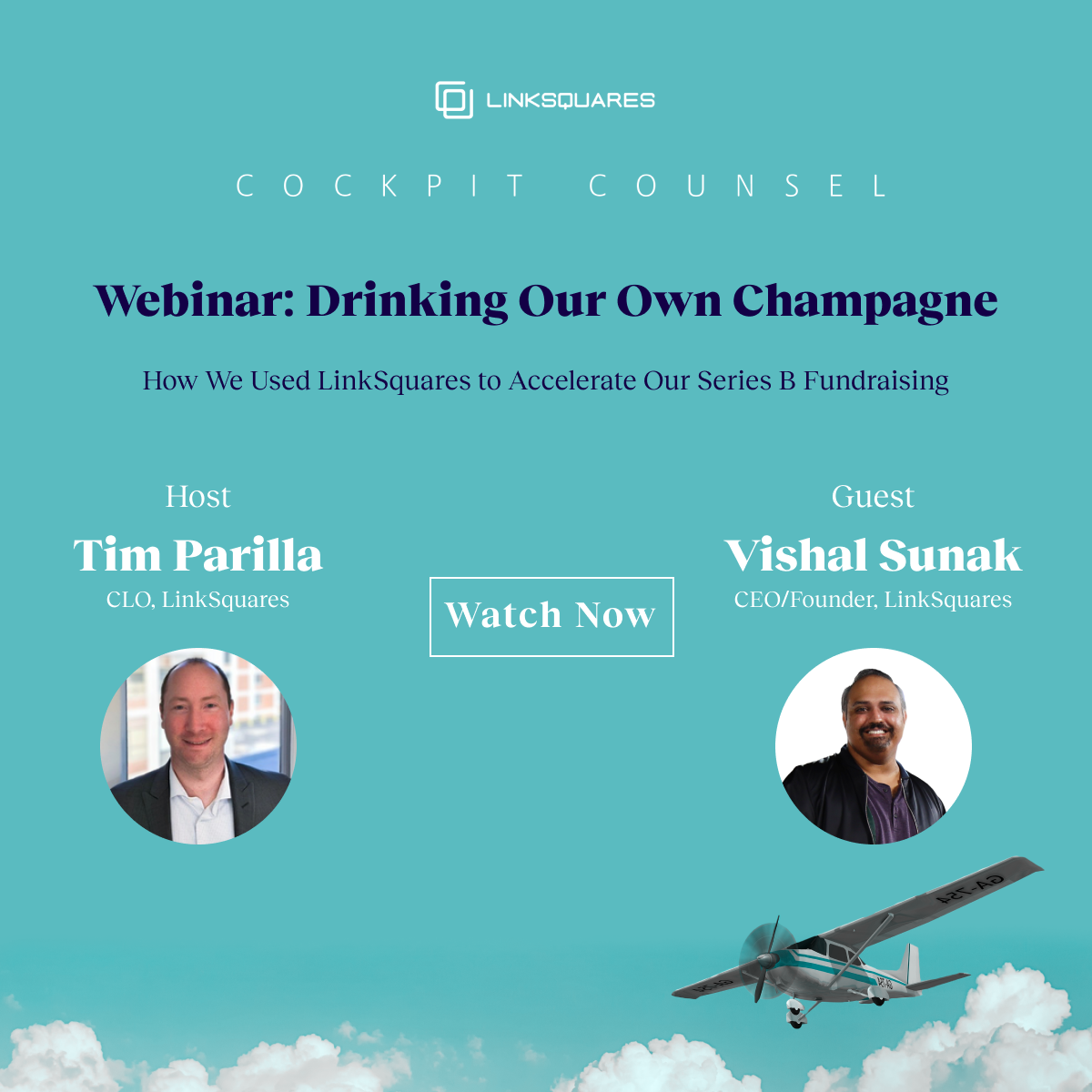 Getting ready for an upcoming funding or M&A transaction takes both strategic planning and a deep understanding of its potential impact on your business. One thing in-house legal teams shouldn't have to worry about during this process is where to find agreements and what's inside of them. The right contract management solution should gather all of your contracts into a single repository, run due diligence reports instantly, and streamline your negotiation.
LinkSquares recently announced its $40 Million in Series B Funding, and we wanted to share the secrets behind our success - using our own contract management platform to accelerate this milestone.
Watch the first episode of our Cockpit Counsel webinar series, hosted by CLO Tim Parilla with guest CEO Vishal Sunak, as they uncover their funding playbook with the help of our very own contract management solution, LinkSquares. In this webinar, we'll help you accelerate your upcoming funding or M&A activity by covering:
How we used LinkSquares to populate the data room in less than 3 business days, instead of weeks
Using AI-driven insights, such as Smart Values and contract tags, to run due diligence in just 1 day
Creating custom reports in just a few hours, versus weeks
What the right contract management solution should look like to help you accelerate deals and decrease potential risk during an event

About Cockpit Counsel
Climb into the cockpit with pilot and LinkSquares Chief Legal Officer Tim Parilla, as he invites legal leaders aboard to share advice that will help you navigate even the most turbulent times of in-house counsel work.

Fasten your seatbelt and prepare for takeoff. We'll cover a range of topics from data privacy, to legal team structure, to public company transactions, and beyond. You don't want to miss this series.